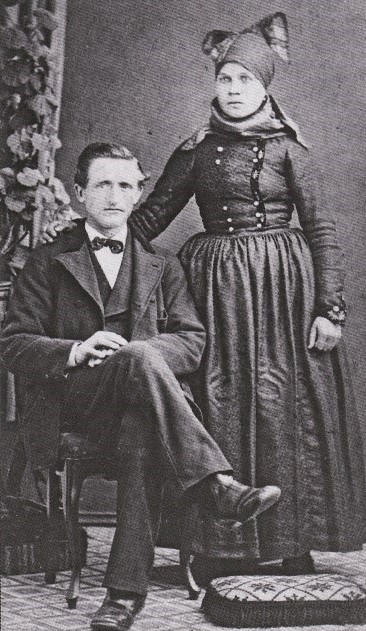 Fiancé 1881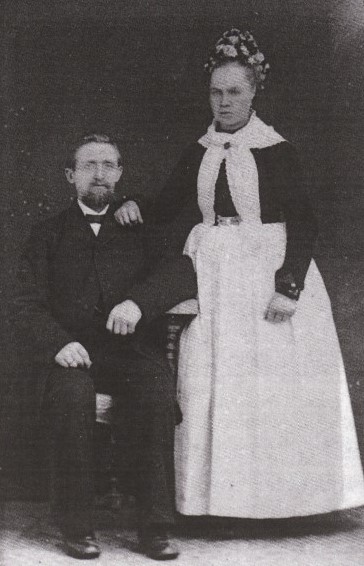 Wedding 1885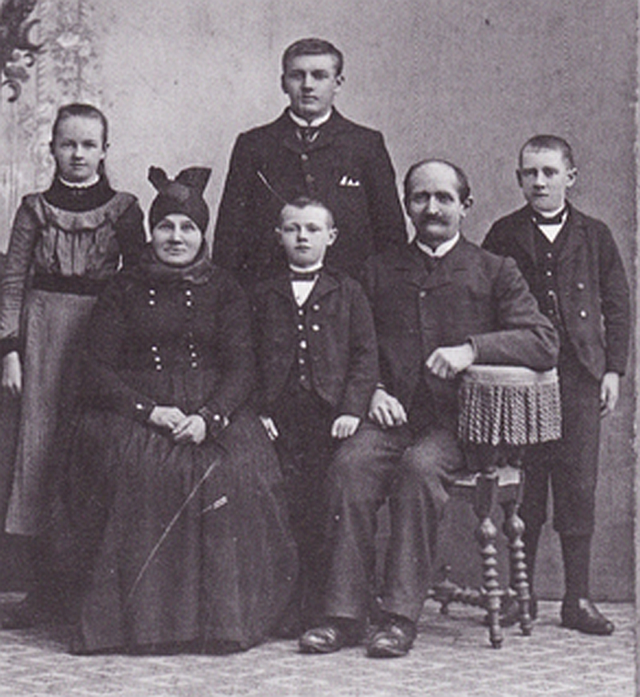 The Family 1904. Morten in the middle at the back.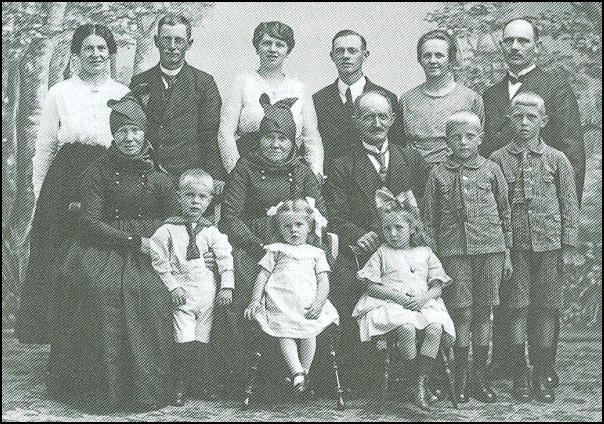 The family in the 1920s
The last occupants of the house
Hans Peter and Ane Kathrine and their family
Hans Peter Thomsen was the owner of this house, – now Fanø Museum. Born in 1858, he began his life at sea at the age of 15 – and for more than 40 years sailed on different ships. Hans Peter's life matched the lives of many other men from Fanø. An early start on a strenuous life at sea, a hardworking wife, a small village farm and a family exposed to the dangers of a seafaring life. Hans Peter lived to witness the fall of the tall ships, when motors and steel replaced wood and sails. A development leading to the end of the merchant fleet on Fanø. In 1891 Hans Peter became master of his own ship, which was sold 13 years later due to debt. He then made a living as mate. During the First World War, he sailed convoys until 1917, when he retired.
Hans Peter marries Anne Kathrine
In 1882 Hans Peter graduated as first mate from Fanø Navigationsskole, after which he sailed a few years as mate, before returning to Fanø. In 1885 he married Ane Kathrine Mortensen. They had five children: Morten, Andreas, Andreas, Anna and Christian. Andreas, the second son, died in infancy. A sailor's In societies based on seafaring, such as on Fanø, marriages weren't codependent – the sailor often away at sea for years at a time. To Ane Kathrine Mortensen and Hans Peter Thomsen it was no different. Hans Peter was at sea for more than five years, while Ane Kathrine took care of house and children. Being a sailor's wife meant years of sacrifice, awaiting letters and dealing with an ever-looming risk of widowhood. She had to deal with everyday life herself. She raised her children alone and was responsible for keeping both house and land. She took care of cows, sheep, fowl and the small fields. She maintained her home, went to the market and traded. She dug for worms, prepared the fish, sowed and reaped. She baked and brewed, milked and churned. She washed, repaired and ironed clothes, while raising a growing flock of children.
Morten
In 1885 the Thomsens had their first child, Morten. Like so many other boys in the island, Morten became a sailor as his father. His career was short and tragic. Morten worked his way up to become chief mate at a steam ship. On a voyage from Wales to Italy, the ship was wrecked in a fierce storm. The hatches broke and the ship was sinking fast. Morten died at 27 after 13 years as a sailor.